A safe space in the heart of Hollywood, offering classes and providing learning materials to young adults experiencing homelessness.
June 9th was a BIG day for A Million Drops. We held our 6th Annual UTW Day. We had another successful Unsheltered Art Show. And both of these events happened at the Grand Opening of our very own A Million Drops Learning Center. What a day it was indeed.
The Learning Center

We're very excited to share the news about our new Learning Center. It had been a goal for a very long time to have a place where homeless and at-risk young adults could come in off the street to read, learn and get the help they need to improve their life situation.
Our opening day was a tremendous success. We had a huge turnout of friends, people from the community as well as our board members and many of our peers in the non-profit and fundraising community that work to help improve the lives of homeless and at-risk youth and young adults.
The Learning Center offers opportunities to study as well as teach, and gives those in the community a brick-and-mortar location where they can come donate their time, needed items or money to help improve the lives of others.
Unsheltered
Coupled with the opening of the Center was Unsheltered VII, our recurring art exhibit presenting works by homeless, young adults. In the past we featured drawings and paintings. This time around we decided to make it a "photographs only" show.
In realizing that not everyone is comfortable with paint, we thought everyone can take a photograph. This allowed for many more of our local homeless and at-risk young adults to take part.
We raised money and spirits. The art exhibit resulted in many pieces being sold, with a majority of the proceeds going directly to the artists. They were thrilled, of course.
Opening Day was also the day when we started to create our edible garden in the back of the lot. Thanks to the California sun and frequent watering (taken care of by Craig, one of our young clients) the little vegetable plants and herbs have already grown in nicely.
Self Defense Class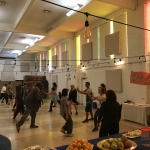 Directly behind our new Learning Center we have access to a banquet hall. That is were we held our very first community Self Defense Class. Supported by the Hollywood United Neighborhood Council (HUNC) this event was open to all members of the local community, and it was a rousing success.
It was especially fulfilling to see some of our more shy and introverted friends step outside of their comfort zone to take part in learning how to defend themselves. The class was taught by Jean Morrison, a veteran self-defense teacher and life coach. The event was so well received we have already scheduled our next class for July 14th.
Future Classes and Events
In addition to the Self Defense Class, we have a number of events and classes scheduled: Local artist Sophie Pleshette started to teach a weekly Art Class with the goal to create pieces that our young people will paint on utility boxes along Hollywood Blvd. This project is supported by the Hollywood United Neighborhood Council (HUNC).
We will also be holding a Career Planning Class where anyone can learn tips from writing a resumé to interview techniques.
Every month – in partnership with Wash on Western Laundry – we sponsor a Free Laundry Night where homeless people can their laundry for free.